08 Jan

10 great things to do on Brač island !
ZLATNI RAT
Of all the beaches in all Croatia, Zlatni rat is the most iconic. Photogenically shaped like a tongue, its tip altering every so slightly as tides and wides dictate over the course of a year, this extension of fine shingle sits alongside the island's main resort of Bol on the southern coast. The stroll to Zlatni rat ('Golden Cape'), amid fragrant pines, prepares holidaygoers for a day's relaxation. Those staying at nearby campsites and hotels can reach the beach and claim their spot a little earlier, space at a premium in high season. Zlatni rat is revered by windsurfers, who take advantage of the wind patterns, the light morning Levanat, the afternoon Mistral and the stronger Tramontana.
VIDOVA GORA
The highest point of all the islands in the Croatian Adriatic, Vidova gora is a satisfying and signposted walk from Bol on the south coast of the island. Setting out from Donje Podbarje at the north-western edge of the town centre, hikers make the steady, sturdy trek up to the peak of 778 metres (2,552 feet), a three-hour jaunt, the views becoming more and more impressive. From the top you can see Hvar and the Croatian mainland, best observed with a beer from the summer-only bar, equipped with a handy picnic table.
SUPETAR
Supetar is the largest place and at the same time the only urban centre on the island and as such it represents an administrative, cultural and a tourist centre. Rich cultural and historical heritage of Supetar will take you back to Roman times. You will find yourself surrounded by numerous "villae rustice" and remains of a mosaic located next to the parish church dating from the 6th century. An imperative is the Church of St. Mary of the Annunciation from the 18th century with a beautiful bell tower and a museum.Supetar is one of the most popular places on the island. In numerous restaurants and traditional taverns you can taste the magnificent Mediterranean food. All this in combination with different sports and recreational activities will make your holiday unforgettable.
SUTIVAN
The story of Sutivan is a strange and bitter tale, and one with a developing happy ending. A traditional wine-growing village on the nearest point on Brač to the mainland hub of Split, Sutivan was a thriving community until the late 19thcentury, when diseased vineyards devastated the local economy. Exodus to the New World was swift and significant – within a few years, there were more former Sutivan winegrowers in Chile than on this north-western tip of the island. Equally, a century later, tourism failed to develop as it did in Bol.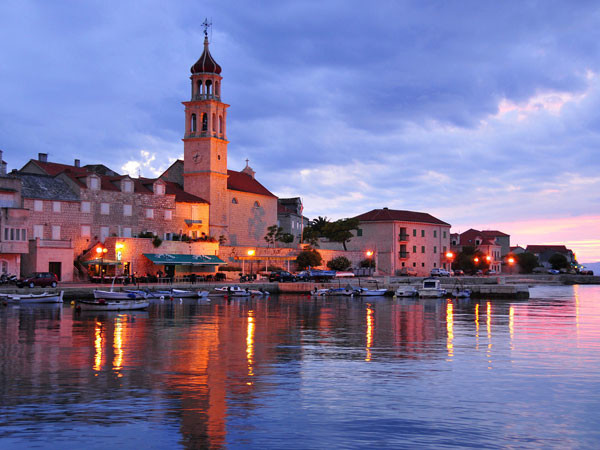 MURVICA DRAGON
Though close to the crowds of Bol, the tiny hamlet of Murvica offers splendid isolation. Even today, its official population barely numbers two football teams. In the 15th century, monks and hermits made their homes in the karst caves here, away from marauding Turks, eking out a meagre living and spending the rest of the time in prayer. In one hollow, an unknown artist among them created the lifelike shape of a dragon, giving the rock its name of the Dragon's Cavern – Drakonjina špilja. Other shapes also appear, humans, birds and the moon, causing debate whether their creators were pagan, Christian or a mixture of both.
ŠKRIP
Diocletian's Palace, the gutted Roman villa-garrison that centrepieces Split, was created from Brač stone. Even some 1,700 years ago, trade between island and mainland would have been significant. Therefore it should be no surprise that the wife and daughter of the emperor Diocletian should be buried on Brač – although other sources point to spouse Prisca and daughter Galeria Valeria either being abandoned in Syria or murdered in Salonika, modern-day Greece. In any case, the rather attractive notion that both now reside in a mausoleum below the Radojković Tower in Škrip on Brač at least encourages people to visit the museum there, otherwise dedicated to a mainly rural history of the island. Škrip itself is older than Split, and is even considered the oldest settlement on Brač.
BLACA MONASTERY
Halfway between Milna and Murvica, on the south-west corner of Brač island, Blaca Monastery was last occupied by Father Niko Miličević in the mid 20th century. When he died in 1963, 500 years of tradition died with him, generations of monks living here since 1551. The monastery library is said to contain more than 10,000 books. Father Miličević cast his eye beyond the printed page and up to the stars. A keen astronomer, he established a modest observatory here, using what is considered the third most powerful telescope in Croatia. Light pollution then would have been as minimal as now, and visitors can study the instruments he used, including his collection of vintage clocks, also bequeathed for generations to come.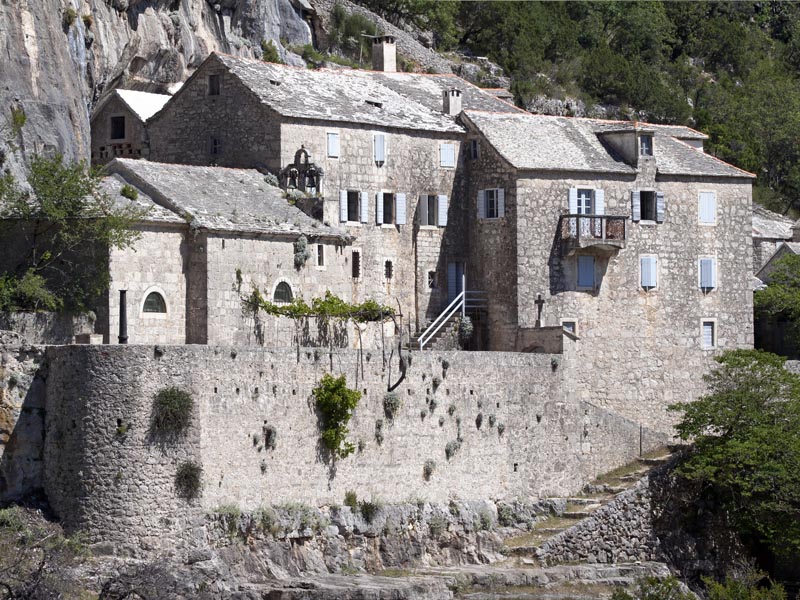 WINE AND OLIVE TASTING
DISCOVER A SUBMERGED ROMAN VILLA
With the sea so clear around Brač, it's little wonder that diving holidays are popular. Lot agency offers all kinds of activities below the waves, from night dives to whole-day trips. Tuition is provided for all levels and ages. One excursion is to Babića stina, behind Zlatni rat. At a depth of around five metres, the remains of a Roman villa from the first century AD become apparent, the mosaics clearly visible. All kinds of bright creatures, coral and flora call these caves and hollows home, opening up a new world only 15 minutes from Bol.
LOVREČINA BAY
Croatia. Those who haven't been picture this perfect image of an idyllic seafront, clear waters and fun all day long. 'The kids will love it!' they quickly surmise, book a holiday, come here and… it's all rocks. Pebbles and rocks. But while many quickly abandon the idea of sandcastles and don sandals, for others, sand is essential. Lovrečina has sand. A narrow stretch of beach on the island's northern coast, Lovrečina basks in the half-moon of a gorgeous bay, with a cluster of trees running alongside to provide shade and privacy. There's even a bar and restaurant, and space to park your car or rented moped nearby.